Life is a game to be played and enjoyed!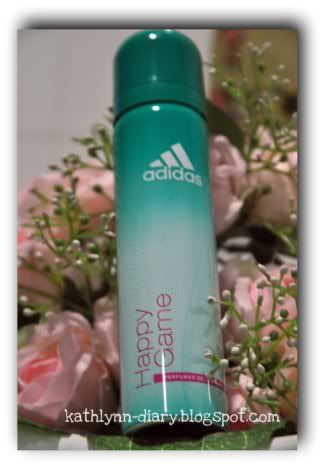 That is the inspiration behind Adidas newest women's fragrance,
Happy Game
joining with the other ranges of women fragrance from Adidas like Active Start, Fair Play, Fruity Rhythm, and more. The
Happy Game
fragrance is made for today's dynamic young woman who is active and sporty, natural and feminine. And with her positive outlook on life, she's always ready to take on the next great adventure.
Fret not if you do fall under that category; I don't see myself as active, sporty or feminine for that matter, but I still believe that this deodorant is meant for all woman alike.
I love the packaging that it comes in, portraying a natural yet feminine feel. The vibrant sea-green makes one feel refreshed and with bright pink wordings to give this bottle a feminine touch. And of course the iconic Adidas logo placed on the top of the spray.
The spray bottle is pretty much like most deodorant spray, with a cap and a nozzle to press on. There was a lil click for the first use (that's how you know that your bottle has not been used – I wanna say something crude, but let's just leave it as it is for now! hehe!)
When I sprayed it on, I just fell in love with the fragrance!
It smells absolutely
refreshing
. One can detect the strong floral scent of freesia, dewy jasmine & flamboyant flower, but
not overpowering
. The modern blend of melon blossom, cranberry & sparkling Clementine sorbet gives a
tinge of sweet & citrusy note
to the scent that is light and again not overpowering so one don't come out smelling like a car freshener. It has a
sensual lingering lush base note
of blond wood, solar musk & golden amber that can
last for hours long
. The above combination of top, middle & base note blends produces
Happy Game
& makes a
happy me
! :)
Retailing at
RM 16.90
for 75ml in all major supermarkets & pharmacies near you, you may want to check out
Adidas Happy Game Deodorant Body Spray
.